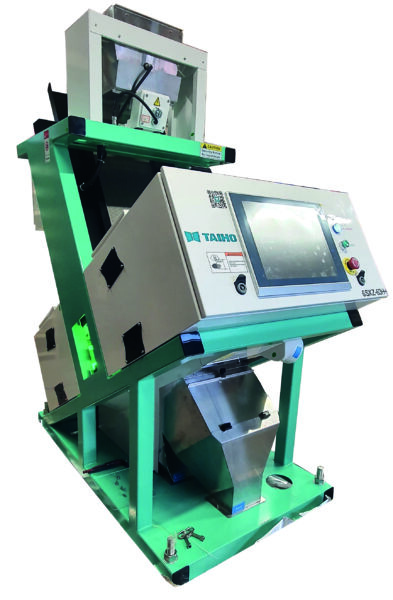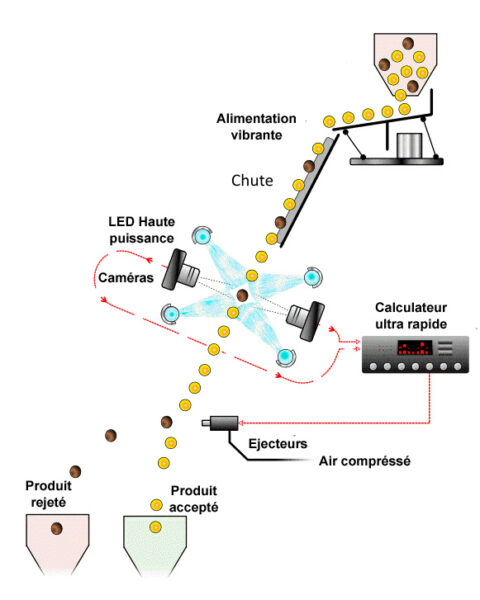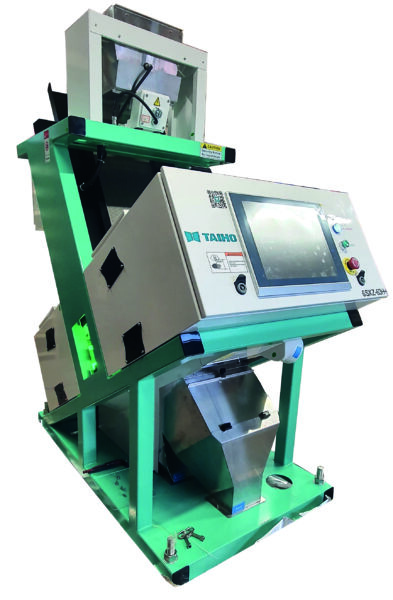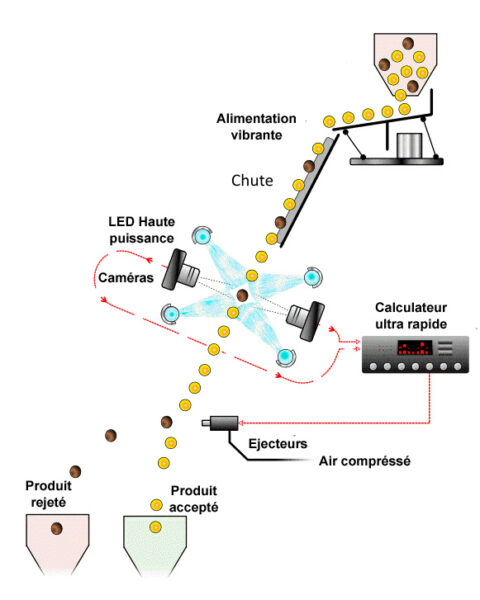 OPTICAL SORTER BY FALL 6SXZ
OPTICAL SORTER BY FALL
The 6SXZ sorter adapts to all situations.
In the walnut world it allows to sort in an efficient way the following products : Kernels
Ask for quotation
PRECISION :
– Ejection nozzles every 5mm.
– Viewing defects from 0.02mm.
– Simultaneous vision above and below the product.
PERFORMANCE :
– Viewing the product 9 000 times per second.
– Until 1400 ejections par second.
INTERFACE
– Touch screen IP6X
– Easy (user-friendly) Interface
– Change settings in real time
– Fast and easy to understand
– French/English/Italian/Spanish
– Saving settings in batches (recipes)
RELIABILITY
– LED lighting is guaranteed for 100,000 hours.
– Industrial solenoid valves guaranteed for 5 000 000 000 cycles.
– Industrial cameras perfectly protected from dust and humidity.
– Few mechanical parts.
– Fast diagnosis in case of failure.
– Remote maintenance.
– Ejection nozzles 100% removable.
– Automatic camera and carpet cleaning.
– Machine in IP6X therefore clean with clear water or compressed air (blower).
INTEGRATION
– Single feeding hopper on a vibrating channel.
– Food grade belt and 100% stainless steel chassis
– Tapis d'évacuation produit configurable (droite ou gauche) inclus.
– Goulotte spécifique de reception (option).
– Set-up on wheels or pallet chassis to be movable (Optionnal)
– 100% remote controllable. By local network wifi or ethernet
CONFIGURATIONS:
– Depending on the product(s) to be sorted and the defects to be removed, different camera configurations are available :
COLOR CAMERAS : Advanced technology that offers the best sorting quality. (E.g. kernels color sorting, without managing shells & membranes)
INFRARED CAMERAS : Advanced technology to bring out certain materials to better eject them (e.g. pebbles, wood, shells, metal, etc…).
These cameras are essential if you want a perfect result on products very complicated to sort.
It comes in several configurations to fit your workload: 1 – 2 – 4 – 5 – 6 – 8 channels
It is thus possible to configure «à la carte» the vision system.
Width 804 / Depth 1512 / Height 1950
Consumption: 500l/min 30m³/h
Pressure : 7bar mini
Volume : 150l
(Maximum Distance of the compressor = 50m)
Air dryer recommended
Pallet Chassis / Extension legs / Air compressed alarm