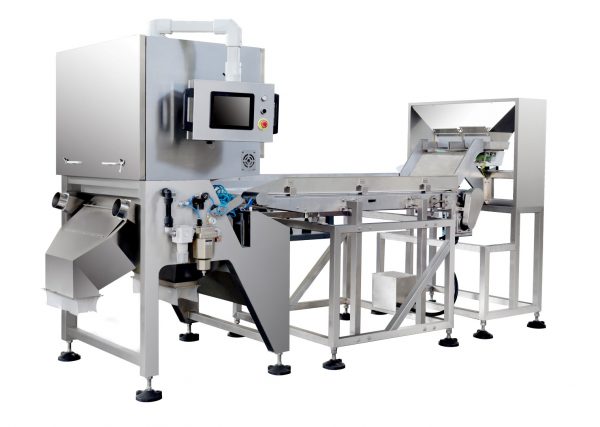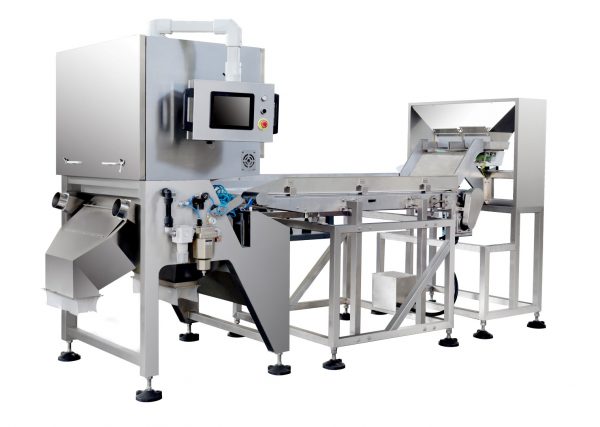 OPTICAL SORTER 6SXL
THE REAL SORTING SOLUTION
Fresh Walnuts
Dry Walnuts
Kernels
Almonds
Hazelnuts
Chestnuts
Olives
Cherry
etc…..
Ask for quotation
The sorter 6SX adapts to any situations
In the nucicultural world it allows to sort in an efficient way the following products :
FRESH WALNUTS / DRY WALNUTS / KERNELS
PRECISION :
– Ejection nozzles every 5mm.
– Vision of defects from 0.02mm.
– Simultaneous vision above and below the product.
PERFORMANCE :
– Conveyor belt up to 4.5m/s.
– Viewing the product 9,000 times per second.
– Up to 1400 ejections per second.
INTERFACE
– Touch screen IP6X
– User-friendly Interface
– Change settings in real time
– Fast and easy understand
– French/English/Italian/Spanish
– Saving settings in batches (recipes)
RELIABILITY
– LED lighting is guaranteed for 100,000 hours.
– Industrial solenoid valves guaranteed for 5 000 000 000 cycles.
– Industrial cameras perfectly protected from dust and humidity.
– Few mechanical parts.
– Fast diagnosis in case of failure.
– Remote maintenance.
– Ejection nozzles 100% removable.
– Automatic camera and carpet cleaning.
– Machine in IP6X therefore clean with clear water or compressed air (blower)
INTEGRATION
– Single feeding hopper on a vibrating channel.
– Food grade belt and 100% stainless steel chassis
– Configurable product discharge belt (right or left) included.
– Specific reception chute (option).
– Set-up on wheels or pallet chassis to be movable (Optionnal)
– 100% remote controllable. By local network wifi or ethernet
CONFIGURATIONS:
– Depending on the product(s) to be sorted and the defects to be removed, different camera configurations are available :
COLOR CAMERAS : Advanced technology that offers the best sorting quality. (E.g. Dry walnut/fresh/kernels, without the management of broken nuts and/or shells/membranes)
INFRARED CAMERAS : Advanced technology to bring out certain materials to better eject them (e.g. pebbles, wood, shells, metal, etc…).
These cameras are essential if you want a perfect result on products very complicated to sort. (Ex: Kernels with shell/membrane, broken dry nuts, stones in fresh nuts, etc…).
There are 3 belt widths to fit your work flow :
300mm (1 channel) – 600mm (2 channels) – 1200mm (4 channels)
It is thus possible to configure «à la carte» the vision system.