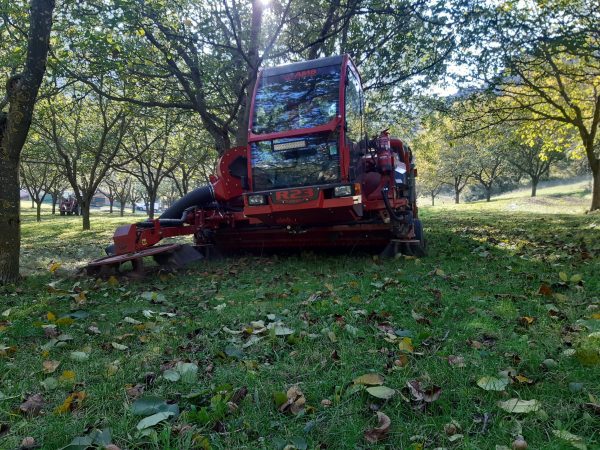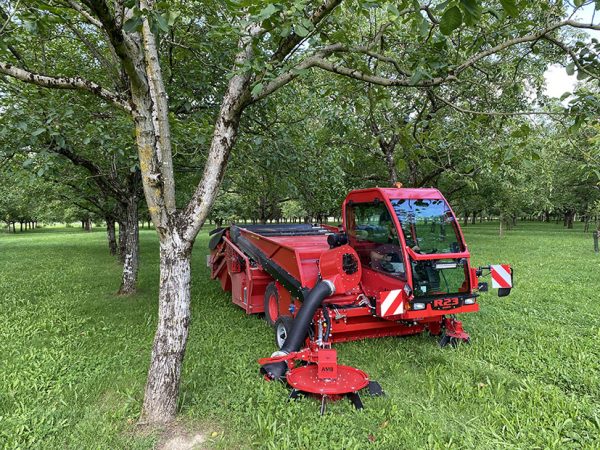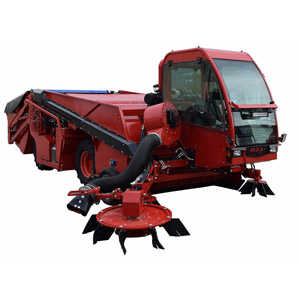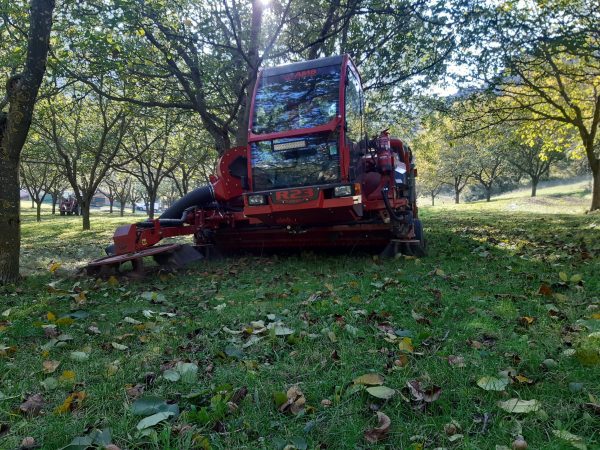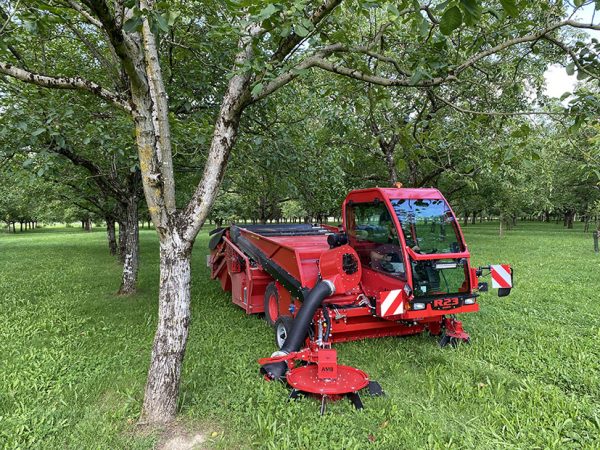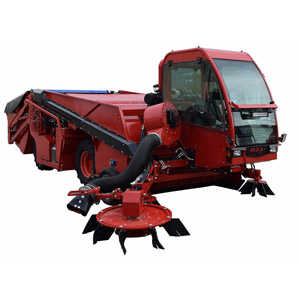 R23 Harvester
Made in France
Performance et confort
Adaptable et fonctionnelle
Design renouvelé
Moteur dernière génération
Grande largeur de balayage
Configuration personnalisée
Ask for quotation
This harvester combines high performance, agility and comfort to provide excellent quality work.
Thanks to the multiple sorting operations carried out during picking, the fruit in the hopper is clean.
Its air-conditioned cockpit (standard) has been carefully designed to provide a very good working visibility and a pleasant driving comfort.
Its large capacity hopper optimizes working time.
Automatic cleaning and cooling regulation.
Numerous options make it possible to work on all types of terrain (sloping, non-grassy, rocky, muddy, dusty, etc.).
Technical specifications
DEUTZ 4 cylinders 3,6 liters - (100 Kw) 136 hp at 2 200 rpm
Stage V - Automatic speed management
Automatic cleaning and regulation of the cooling.
Self-propelled hydrostatic drive SAUER DANFOSS
2 electronic speeds (automotive road + work)
4 wheel drive 4 steering
Very flexible steering (maximum torque available at any speed)
Brakes on both axles
Diesel : 150lt // ADBLUE 10lt
Cylindrical with rubber tabs Ø 1100 mm
Lifting front plate and rotor inverter
Automated collection function.
Powerful, installed as close as possible to the giro,
it offers a maximum power for a reduced size
Adjustable and controllable airflow on the dashboard
Circular housing with 2 fans
1st pre-sorting of impurities by front chain with bars
2nd sorting of the leaves by adjustable ventilation (diffuser on the whole width of collection) Smooth inverted belt sheet evacuator
3rd final sorting by bar belt or vibrating grid (space 21 mm)
Hydraulic lifting and tilting
Hopper level by ultrasonic sensors
Volume : 2 100 liters
Emptying height : 2,90 m
Air-conditioned, filtered closed cab - Electronic display, control and adjustment of all movements - Row end management - All collection controls by joystick - Hopper equalizer - Leaf evacuator - Hopper filling sensor - Fire extinguisher - Stainless steel fuel tank
Satellite side giro - Crabbing - Lifting with ground wheels
Reinforced filtration - Floating pickup - Contrerotor....
All homologation tests (according to French standards) for road use.
Length : 6,93m to 9,78 (depending on options) (7,37m with a giro nut Ø1250)
Width : 2,40m to 3,13m (depending on options)
Height : 2,04m to 2,34m (depending on options)
Weight : 6 500kg